Attendance Line: 01902 558271
Full school attendance is the foundation upon which we can encourage full participation in every aspect of Academy life and so achieve our Mission Statement ideals with the students of the Academy. We acknowledge and reward high levels of attendance as a key aspect of achievement. Review and Guidance Sessions and Target setting will always include aspects of attendance and punctuality. The expected attendance for students is 97%.
| | | | |
| --- | --- | --- | --- |
| Registation | 8.55 am | 9.15 am | 20 mins |
| Lesson 1 | 9.15 am | 10.30 am | 1 hr 15 mins |
| Break | 10.30 am | 10.50 am | 20 mins |
| Lesson 2 | 10.50 am | 12.05 pm | 1 hr 15 mins |
| Lesson 3 | 12.05 pm | 1.20 pm | 1 hr 15 mins |
| Lunch | 1.20 pm | 2.00 pm | 40 mins |
| Lesson 4 | 2.00 pm | 3.10 pm | 1 hr 10 mins |
Daily Acts of Worship are held in House and Year Assemblies.
Curriculum Extra Activities take place from 3.25 pm to 4.30 pm.
Whole School Priority
At Our Lady and St Chad Catholic Academy we place great value upon school attendance as it has a direct link with the achievement of students. Our staff work hard to support and promote attendance and will continue to support and assist all students who have concerns over their attendance to ensure they improve.
Research has shown that students who have high attendance rates achieve better examination results. When students attend school regularly they are also more likely to join in with extra-curricular activities such as clubs and sport, they spend more time with their friends and are able to fully participate in school life. To support this, we expect students at Our Lady and St Chad Catholic Academy to have an attendance rate of at least 97%.
A student with an attendance rate of just 90% is missing the equivalent of one-half day every week or the four school weeks over the year. If a student in Year 7 continues to have a 90% level of attendance, this is equivalent to missing one-half of a school year by the time they come to sit their GCSE examinations.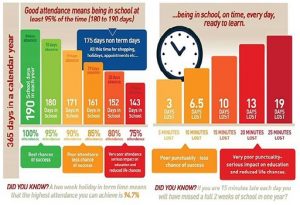 Leave of Absence
As stated in the September 2013 amendment to The Education (Student Registration) (England) Regulations 2006, 'Leave of Absence during term time, can now only be authorised by the Principal, if they are satisfied, that there are exceptional circumstances that warrant the granting of leave when the students should be being educated'.  Please see the Academy's Attendance Policy for further information and procedure.
The current law does not allow parents/guardians to take their child out of school during term time for holidays.  Parents can be fined for taking their compulsory school age child out of school during term time without consent from the Academy.
To make a request for Leave of Absence
Complete and return the request form in full at least two weeks prior to the leave being taken and return to the Academy for approval
The Academy will contact you to authorise/unauthorise the leave of absence request
What will happen if the request is refused but the leave of absence is still taken?
The Academy will notify the Local Authority Officer who may issue a Penalty Notice.  A Penalty Notice of £60 could be imposed per child and per parent.  If this is not paid within 21 days of receipt of the notice the cost rises to £120 which must be paid between 21 and 28 days of receipt of the notice.
If the notice has not been paid in full by 28 days of receipt, the local authority must either prosecute or withdrawn the notice.
Once issued a Penalty Notice may only be withdrawn in the following circumstance:
Proof has been established that it has been issued to the wrong person.
The notice ought not to have been issued e.g. where it has been issued outside the terms of the Code of Conduct. 
This prosecution is for the offence of failing to secure attendance at school not for non-payment of the fine.
Prosecutions are brought under S444 of the Education Act 1996.
Parents/carers need to be mindful that a conviction for this offence can result in a criminal record.